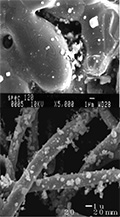 Mott Porous Metal Media Distinct Advantages


When it comes to strength, precision, efficiency and longevity, no filter media works more reliably than Mott porous metal media. This unique substance makes Mott filters highly efficient and virtually indestructible, offering semiconductor manufacturers a whole new level of comfort, coupled with the tremendous savings of eliminating annual change-outs. For years, users of alternative high-purity filtration media have switched over to Mott filters for the distinct advantages they provide:


Unique high-flow nickel media – GasShield® PENTA® POU filters provide the high flow rates and low delta-P of Teflon® filters, with all the strength and performance benefits of Mott porous metal.
Uniform, high-precision porosity – Strictly controlled pore sizes are the result of Mott's patented NanoMetal® Media process.
Depth filtration – The compacting and sintering process arranges pores randomly, creating a labyrinth of irregular paths which more effectively capture particles that enter the media.
No media migration – "Solid-state diffusion bonding" bonds filter media together at the molecular level, making it virtually inseparable, even under the harshest conditions.
High-temperature capabilities – Mott all-metal construction withstands sustained temperatures as high as 450°C.
Corrosion resistance – Mott filter elements constructed of corrosion-resistant alloys such as nickel and Hastelloy® C-22 withstand the harmful effects of corrosive gases like Hydrogen Bromide and Tungsten Hexafluoride.
Tolerance of high differential pressures – Mott filters provide the highest level of protection, with point- of-use filters capable of enduring up to 5000 psig for special applications with a maximum delta-P of 1000 psid.
Wide selection of designs and materials – Mott offers the widest selection of all-metal filters for high-purity applications. There's 316L stainless steel, nickel and Hastelloy C-22 construction to ensure chemical compatibility. And you can choose from standard in-line point-of-use, bulk, utility, IGS, high-flow and low-volume filters, FLP Series Fiber Filters, plus inline GasketFilters, diffusers and flow restrictors. A full product offering, which means Mott is your best single source for obtaining the precise all-metal filter you require.